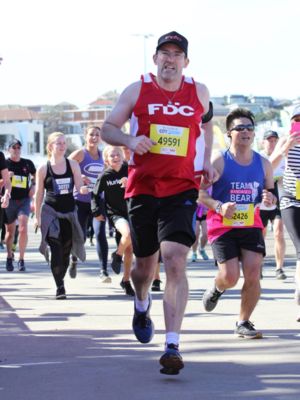 I first started with Vision after signing up to participate in True Grit with some of the younger guys at work.
My initial goals were to get fit and strong enough to complete True Grit and not embarrass myself! I hadn't done much training for a while so it was a good challenge in the 4 months we had before the event.
The training improved both my cardio and strength fitness - which got me ready to successfully complete True Grit and then continued well beyond this initial goal.
The training program devised by Albert has continually helped improve my strength and fitness to reach every goal set and continued my healthier approach to life. Apart from the excellent personal training supporting me every step of the way, the guidance through understanding a healthier diet greatly contributed to reaching every goal. My body transformation has been a greatly satisfying result evident every day in the mirror!
My latest goal was to run the city to surf - which I completed this year. This was the measure of the improvement I have continued to achieve. For the future I want to carry on maintaining the great level of fitness I have achieved ready to meet any new challenges I set as goals in the future.
Joining Vision was the best thing I could have done for myself. The help, support and advice Vision provide guided me on an amazing personal journey to a healthier life. I cannot recommend Vision enough to anyone thinking about starting this personal journey. It means some hard work and strong will at times but the path can be as hard or as easy as you want to make it for yourself. Vision help you along every step giving you the assistance, support and encouragement you need to succeed.
Five Dock Success Stories
Our holistic approach to emotions, education, eating and exercise has transformed thousands of people across Australia & New Zealand. Get inspired by the journeys of your latest clients.
Are you our next success story?
Give your goals the greenlight and join us. Book your free consult now.