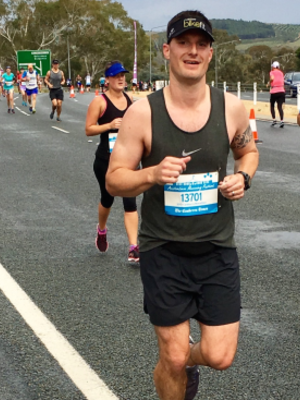 I joined Vision Personal Training in October 2015 motivated by the repeated back injuries and strains I'd suffered in the preceding 12 months. I loved running but knew my injuries meant that I needed help to manage my fitness and training. The constant stop / start of my running injuries meant I'd also gotten out of the habit of training so was struggling with motivation to exercise regularly and started to put on weight. I hit 98kgs which were a good few kilos more than I knew I should be carrying.
I started to think that this was just how it might have to be as I get older due to my injuries and therefore I might not be cut out for running which was disappointing as it's a sport I was quite passionate about. I had also noticed that without the regular exercise I had once been used to, I was finding hard to deal with the pressures of work / life balance and generally feeling sluggish.
I started training with Joey twice a week, and we focused on strengthening and rehabilitating my back. Joey and the team's knowledge and tempered approach goes beyond just executing a training program in the gym; Joey and his team genuinely care about their clients and are constantly checking in to provide practical and realistic advice and strategies to fit fitness goals into a busy lifestyle.
By February 2016 I had lost 13 kgs, the best bit being that I have not only kept it off but that I also accomplished a goal that I was beginning to think was beyond me. In April 2017 I ran and completed the Canberra marathon in 4:02 hours. This accomplishment is a testament to the entire Vision Mosman environment; from the Trainers, I worked with when Joey wasn't available, the Trainers and fellow clients that took and supported me at the run club on Mondays and Wednesdays, and to the comradery of the other clients in the Studio I could not have achieved my goals without them.
Mosman Success Stories
Our holistic approach to emotions, education, eating and exercise has transformed thousands of people across Australia & New Zealand. Get inspired by the journeys of your latest clients.
Are you our next success story?
Give your goals the greenlight and join us. Book your free consult now.