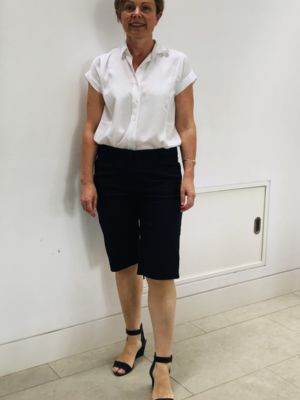 I am 41. I have three children (12,10,7) and my own business. I was lacking in the physical energy to do what needed to be done and wanted to love myself enough to get fit and lose weight. I also really wanted to be able to just go to my wardrobe, put on an outfit and get on with my day.
A friend mentioned Vision to me, and it resonated. I met Aaron when I literally just walked the dogs to the Vision Studio to check it out and I think we got started that week. Aaron has consistently showed up with a vibrant, positive attitude to helping me achieve my goals. I always leave the Studio feeling better than when I walk in. I got a sense very quickly that he knew what he was doing and that I should just let go, trust him and the process.
Whilst I haven't completed my Vision Journey yet, I have gone from a size 14 to 8 with weight loss of 11 kg and gaining more toning all over. The most compelling thing is to hold the weight that you've lost, and it becomes very obvious why you were tired carrying around all that extra body fat every day. When I started, I couldn't do 1 push up on my toes, now I can do TWENTY!
The attitude in the Studio is friendly and supportive by trainers and fellow clients. You get a sense that everyone is super proud of you just being there in an attempt to be your best self. The food diary showed me that the volumes of good food that I was eating was part of my problem and I also was really lacking in protein. Unfortunately, even if chocolate is organic and raw, it is still high in carbs! Consistency seems to be the key - training and eating. And of course, the right training for the right body type, constantly modified for my progress.
I can't thank Aaron and Vision enough for their support and guidance. I greatly look forward to doing my first unassisted chin up.
Willoughby Success Stories
Our holistic approach to emotions, education, eating and exercise has transformed thousands of people across Australia & New Zealand. Get inspired by the journeys of your latest clients.
Are you our next success story?
Give your goals the greenlight and join us. Book your free consult now.