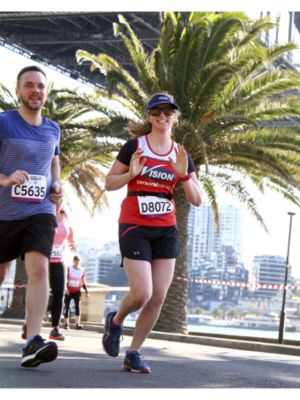 I started my Vision journey back in 2014 after returning from a very indulgent trip to Europe. I started a business shortly after returning from overseas and knew that if I wanted to be able to perform at my best in work and life, I'd need to be a lot fitter and healthier than I was. I joined a group fitness class at my local park that met twice a week but ultimately felt I wasn't progressing as quickly as I'd like and, at the time, wasn't aware of how much nutrition plays a big part in achieving your weight/fitness goals. I made the decision that I needed a personal trainer primarily for accountability but also to feel like I had more skin in the game. Around that time, I moved to Willoughby and decided that I would give Vision a go. I was drawn in by the 9-week challenge and thought I had nothing to lose. Over that 9-week period I lost close to 10kgs, was motivated to drop alcohol and other vices that were holding me back from my goals and learnt a lot about nutrition through the food diary and managing macros. After a short break from Vision over the summer period (and realising I was never going to be able to do it alone) I re-joined Vision and haven't looked back. I was teed up to train with Ash and straight away noticed the improvement in my wellbeing and fitness. Ash has been a driving force in pushing me to achieve new goals, gym PBs and to feel motivated about achieving nutritional outcomes too. I now look at 'less nutritional' foods as rewards for a solid week rather than just getting through the day. We also work hard on maintaining long-term goals including running a half marathon in May next year with short term outcomes to keep on track and to feel accomplishment. Today I am the fittest and lightest I've been in my adult life and couldn't be happier for it.
Willoughby Success Stories
Our holistic approach to emotions, education, eating and exercise has transformed thousands of people across Australia & New Zealand. Get inspired by the journeys of your latest clients.
Are you our next success story?
Give your goals the greenlight and join us. Book your free consult now.