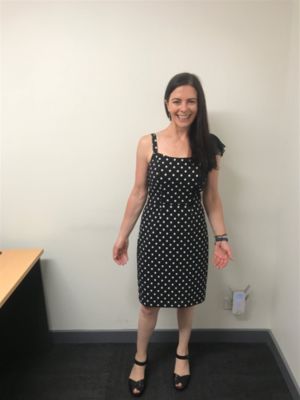 Bronwyn Fox
I joined Vision when I moved from Geelong to Hawthorn for work at the end of 2015. I was diagnosed with Coeliac disease in 2007 and found it a real struggle to maintain an optimal weight after that. I had been to see two different dietitians and I'd spent the past ten years consistently working out - combining running with boot camps, weight training and despite all of this, I just could not move those extra kilos.

What results have you achieved at Vision?
I've lost almost 15 kilos, but much more than that, I feel so much healthier and stronger than I ever have in my entire life. I have a pretty intense job, work long hours and travel a lot for work and Vision gives me the flexibility and planning tools to ensure I'm exercising and well nourished alongside my work schedule.

What impact has Vision had on your life since achieving your amazing results?
I just have so much more energy than ever and I'm able to handle stress in a much more balanced way. My trainer, James has been a constant inspiration and I really look forward to every session with him because he is so positive and upbeat and I learn something new each time. The surprising thing for me was that Vision has really had a huge impact in making me more effective at work. There's a lot of new research that demonstrates the cognitive benefits of exercise and this was an unexpected bonus for me. I've also had challenges with a few different injuries (currently my hamstring) and James has always found a way to tailor my training so that I can maintain my fitness and strength.

What are some of the defining moments during your journey?
My friend Charlotte recommended Vision when I moved and I initially was very sceptical about filling in a food and training diary in particular. But as I started to see some results, my mindset completely shifted and I realised that it wasn't hard or onerous and that I was learning a new way of living that I could actually stick to. Having my photo taken with James with a 10kg weight after losing that exact amount of weight was a defining moment as was my trophy for being client of the month - my very first sports trophy! Being part of the Vision community has been wonderful, it's not one of those gyms where people avoid making eye contact with each other. I'm constantly inspired by seeing other Vision members achieve amazing results (particularly Marnie, Kat and Karen), it really keeps you motivated. The support network and fun of run club and running in events with the Vision crew have provided a number of other defining moments.

What advice would you give someone who is currently thinking about taking a positive step towards changing their health and fitness?
Just walk in and speak to a Vision staff member. I've tried everything and Vision genuinely works and you will learn new tools that will serve you well for the rest of your life. I just wish I'd done it earlier.
Hawthorn Success Stories
Our holistic approach to emotions, education, eating and exercise has transformed thousands of people across Australia & New Zealand. Get inspired by the journeys of your latest clients.
Are you our next success story?
Give your goals the greenlight and join us. Book your free consult now.