Wholemeal Flour Tortillas
100g Heart Smart Beef Mince
1 Jar Old El Paso Medium Chunky Salsa
Extra Virgin Olive Oil, for Brushing
15g Bega Light Shredded Cheese
60g Avocado, Peeled & Chopped
Old El Paso Burrito Seasoning
Method
Preheat oven to 180°C (350°F).

Arrange a tall ramekin or ovenproof mug upside-down on a baking tray. Using a pastry brush, brush the tortilla with oil and place, oil-side down, over the ramekin. Set aside.

Bake the tortilla for 8 minutes or until nice and brown. Wearing oven gloves, carefully remove the tray from oven and allow to cool (the tortilla will turn crispy as they cool).

To make the nacho filling, place the oil in a large non-stick frying pan over medium heat. Add the beef mince and cook with burrito seasoning until cooked through.

Cut avocado into small cubes.

Take the tortilla from the ramekin and flip them over to make nacho bowl. Spoon the beef filling into the bowl and top with the cheese and avocado (plus a squeeze of lime, if you like).

Break pieces of your bowl and scoop up the filling!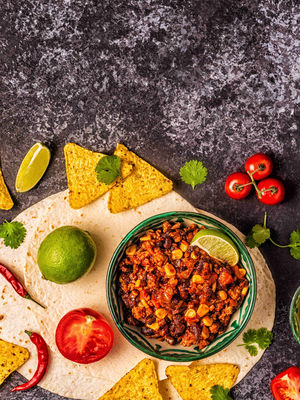 Discover more recipes on MyVision
MyVision provides members with hundreds of recipes which are easy to prepare and are suitable for the entire family.
Join us today and you'll have access to more great recipes like this.