76g Butter, Softened
5g Coconut Sugar
2 Eggs
15g Maple Syrup
1 Tsp Vanilla Extract
130g Gluten Free Flour
95g Oat Flour
25g Desiccated Coconut
15g True Protein WPC80 in Raw Coconut
5g Baking Powder
20g Strawberry Jam
Method
Preheat your oven to 180°C and line a baking tray with baking paper.

Whisk the butter and sugar until pale and creamy.

Whisk in the eggs, maple syrup and vanilla.

Add the dry ingredients and use a spatula to combine.

Take 1 tbsp of the mixture, roll it into a ball and place it on the lined tray. Use your fingers to make an indent in the centre (Tip: wet your hands to stop the dough from sticking).

Fill with the strawberry jam and sprinkle the outside with some extra coconut.

Place in the oven for 12-14 minutes or until lightly golden.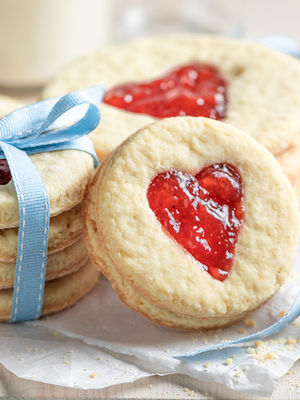 Discover more recipes on MyVision
MyVision provides members with hundreds of recipes which are easy to prepare and are suitable for the entire family.
Join us today and you'll have access to more great recipes like this.