400g Chickpeas
120g Maple Syrup
140g Smooth Peanut Butter
1 Tsp Vanilla Extract
50g Almond Meal
1/2 Tsp Baking Powder
1/2 Tsp Bicarbonate Soda
75g White Chocolate Chips, roughly chopped.
10g Peanuts, roughly chopped.
Method
Preheat oven to 180 degrees and line a loaf tin with baking paper.

Combine all of the ingredients, except for choc chips and peanuts into a food processor.

Process until the mixture forms a smooth consistency. Add half of the chocolate chips and pulse once to combine.

Use a spatula to transfer to a lined baking tin and spread evenly. Press remaining choc chips and peanuts on top.

Bake for 25 minutes or until golden on top.

Remove from oven and cook for 20 minutes and place on a wire rack to completely cool before slicing.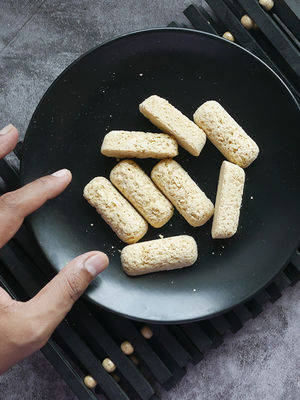 Discover more recipes on MyVision
MyVision provides members with hundreds of recipes which are easy to prepare and are suitable for the entire family.
Join us today and you'll have access to more great recipes like this.