1 Packet Wholemeal Spaghetti or Bucatini
3 Tablespoons Extra Virgin Olive Oil
2 Packages Sliced Fresh Mushrooms
3 Garlic Cloves, Minced
3/4 Cup Milk
1/4 Cup Thickened Cream
2 Tablespoons White Miso
4 Cups Packed Fresh Baby Spinach
5g Grated Parmesan Cheese
2 Tablespoons Lemon Juice
Method
Bring a pot of water to a boil. Cook pasta according to package directions; drain, reserving 1 cup of the cooking water. Set aside.

Heat oil in a large skillet over medium-high heat. Add mushrooms and garlic; cook, stirring occasionally, until the mushrooms are tender and beginning to brown, about 8 minutes. Whisk together milk, cream, miso and 3/4 cup of the reserved pasta cooking water in a small bowl.

Reduce heat to medium; add the half-and-half mixture to the mushroom mixture. Cook, stirring constantly, until the miso breaks down, about 1 minute.


Add spinach and Parmesan; cook, stirring constantly, until the sauce slightly thickens and the spinach wilts, about 2 minutes.


Add the pasta; toss gently to coat, adding more reserved cooking water if needed to reach desired consistency. Remove from heat and stir in lemon juice.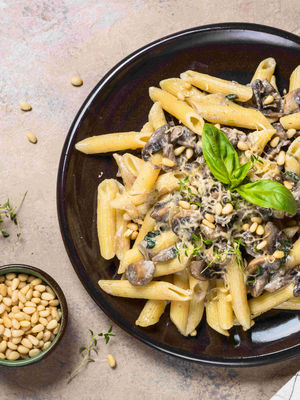 Discover more recipes on MyVision
MyVision provides members with hundreds of recipes which are easy to prepare and are suitable for the entire family.
Join us today and you'll have access to more great recipes like this.