450g Keep It Cleaner Red Lentil Pasta
700g Butternut Pumpkin
1 Brown Onion
2 Garlic Clove
130ml Soy Milk
110ml Pasta Water
3 Tbsp Nutritional Yeast
3 Tsp Lemon Juice
1 Tsp Wholegrain Mustard
1/4 Tsp Nutmeg
1/2 Tsp Salt
1/4 Tsp Cracked Pepper
50g Vegan Mozzarella
Method
Preheat oven to 190 degrees Celsius and line a baking tray with paper. Chop pumpkin into small pieces, approximately 1.5cm x 1.5cm, and roughly chop the onion into wedges. Transfer the pumpkin, onion and peeled garlic to the baking tray. Drizzle with olive oil and roast for 30 - 35 minutes, or until soft.
When the pumpkin is nearly finished roasting, bring a pot of salted water to boil and cook pasta until al dente, then drain and transfer to a clean baking dish. Reserve 110ml of pasta water for later.
Transfer the roasted pumpkin, onion and garlic to a blender, then add soy milk, pasta water, nutritional yeast, lemon juice, mustard, nutmeg, salt and pepper. Blend on high-speed until smooth and creamy.
Change the oven function to grill and set to 200 degree Celsius. Pour the pumpkin sauce over the cooked pasta and mix well, ensuring everything is well coated. Sprinkle with vegan mozzarella, then grill for 10 minutes, or until the cheese is golden and melted.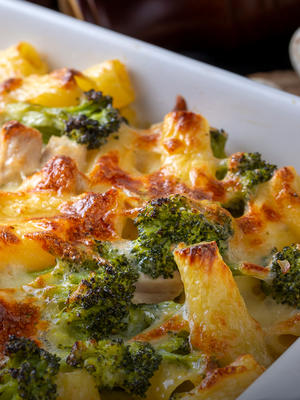 Discover more recipes on MyVision
MyVision provides members with hundreds of recipes which are easy to prepare and are suitable for the entire family.
Join us today and you'll have access to more great recipes like this.