150g Country Harvest Carrots, Peas & Corn (Birds Eye)
150g Capsicum
1 Pepper (Red Hot Chilli Pepper)
40g Coriander
10g Garlic
5g Chinese Five Spice (Masterfoods)
40g Peppermint (Mint)
100g Mushrooms
2tsp Olive Oil
250g Pears
500g Pork Fillet
25g Soy Sauce
Method
Mix Chinese five-spice with soy sauce and garlic and in a small ceramic bowl. Add pork and toss to coat. Cover and refrigerate for at least 2 hours.
Preheat oven to 180c for fan-forced oven or 200c for standard oven. Drain pork, reserving marinade. Put pork in a shallow roasting pan and roast for 15 to 20 minutes or until just cooked through. Transfer to a plate and cover with foil. Rest pork for 5 minutes.
Meanwhile place reserved marinade in a small saucepan and add 2 tablespoons of water. Bring to the boil over high heat. Reduce heat to medium and simmer for 3 minutes. Transfer to a bowl and stir in oil. Set aside to cool.
Slice pork into thin slices across the grain and combine Asian greens, capsicum, mushroom, pear, coriander, mint and chopped chilli in a large bowl. Add pork and dressing.
Toss to combine and serve immediately.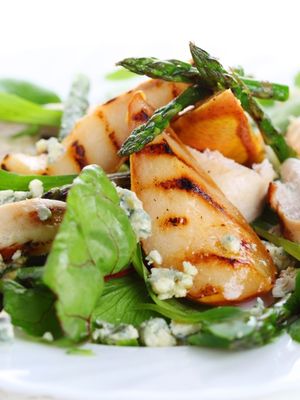 Discover more recipes on MyVision
MyVision provides members with hundreds of recipes which are easy to prepare and are suitable for the entire family.
Join us today and you'll have access to more great recipes like this.