80g Rolled Oats
2 Cups Milk
1 Cup Water
5g Vanilla Bean Paste
Milk
Brown Sugar & Maple Syrup to Serve
2 Red Apples, Sliced
2 Tablespoons Honey
Method
To make honeyed apples, heat a large non-stick frying pan over high heat. Cook the apple for 1 minute each side. Add honey and cook for a further 1–2 minutes or until golden and caramelised.

Place the oats, milk, water and vanilla bean and seeds in a saucepan over low heat. Cook, stirring occasionally, for 8 minutes or until thickened. Spoon into serving bowls, top with extra milk, sugar, maple syrup and honeyed apples to serve.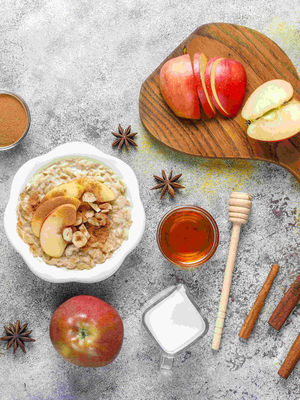 Discover more recipes on MyVision
MyVision provides members with hundreds of recipes which are easy to prepare and are suitable for the entire family.
Join us today and you'll have access to more great recipes like this.