20g Flaked Almonds
100g Basmati Rice (Cooked)
300ml Real Stock Chicken
600g Chicken Breast Meat
10g Garlic
1 Lemon
60ml Lemon Juice
5g Thyme
5 Tsp Olive Oil
100g Red Onions
15g Parsley
10g Rosemary
Method
To prepare the chicken, place chicken, lemon juice, oil, thyme and rosemary in a large snap-lock bag, seal and shake to coat. Refrigerate for 15mintues, if time permits.
Heat a non-stick frying pan over medium-high heat. Add chicken. Cook for 4 to 5 minutes each side or until cooked through. Transfer to a plate. Stand, covered, for 5 minutes and then thinly slice.
For the Herb Pilaf. Heat oil in a saucepan over medium-high heat. Cook onion and garlic, stirring, for 3 to 4 minutes or until onion has softened. Add rice and stir to coat. Add stock.
Bring to the boil. Reduce heat to low. Cover. Cook for 12 to 15 minutes or until rice is tender. Using a citrus zester, remove rind from lemon.
Add parsley, chives, lemon rind and almonds to rice mixture. Stir to combine.
Option to serve with steamed squash and green beans.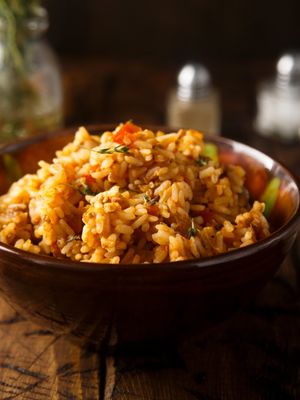 Discover more recipes on MyVision
MyVision provides members with hundreds of recipes which are easy to prepare and are suitable for the entire family.
Join us today and you'll have access to more great recipes like this.