100g Low fat cottage cheese (Dairy Farmers)
2 Large egg whites
1g Black pepper
125g Feta Cheese (Lite N' Easy)
1g Nutmeg (Ground)
20g Dried whole sesame seeds
50g Mushrooms
0.5tsp Olive oil
300g Spinach (Chopped or leaf, frozen)
60g Onions
135g Filo Pastry (Borgs)
Method
Heat frying pan. Spray with non stick oil. Add chopped onion and mushrooms, cook until onion is soft.
Blanch or steam spinach until just wilted. Squeeze out excess liquid.
Combine onion mixture, spinach, feta cheese, cottage cheese, eggs, nutmeg and pepper in a bowl.
Layer 4 sheets of filo pastry in 22cm round pie dish.
Spoon spinach mixture into pastry case. Top with remaining pastry. Roll edges to seal. Trim off any extra pastry.
Brush top of pie with egg white. Sprinkle with sesame seeds. Bake at 180 C for 20 - 25 mins or until golden brown.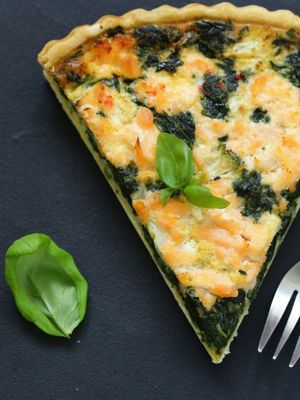 Discover more recipes on MyVision
MyVision provides members with hundreds of recipes which are easy to prepare and are suitable for the entire family.
Join us today and you'll have access to more great recipes like this.