12 Medjool Dates
1/2 Banana
2 Tbsp Almond Butter
100g Dark Chocolate, Melted
Method
Remove pits from dates, making sure dates stay whole and don't split into halves

Mix the banana and almond butter together. Use a spoon to fill each date with banana mix.

Place dates onto rack with baking paper underneath. Drizzle the melted chocolate over the top to coat the dates. Sprinkle with sea salt.

Place in fridge for approximately 1hr until chocolate has set.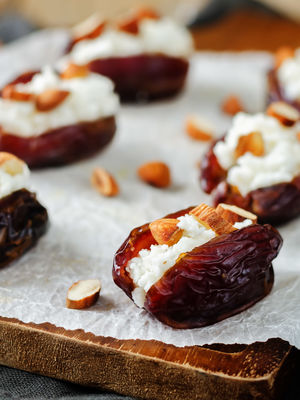 Discover more recipes on MyVision
MyVision provides members with hundreds of recipes which are easy to prepare and are suitable for the entire family.
Join us today and you'll have access to more great recipes like this.