500g Sweet Potatoes
400g Tuna in Spring Water, drained
4 Spring Onions, finely sliced
1-2 Garlic Cloves, grated or chopped
1 Egg, lightly beaten
1 Cup Rice Crumbs
1 Tbsp Flour
2 Tsp Sesame Seeds
1 Tbsp Olive Oil
1 Tsp Finely Chopped Parsley
Method
Cut sweet potato into small cubes and steam them for 5-10 minutes until soft. Transfer to a bowl and use a fork to mash roughly.

Heat olive oil in a non-stick pan over medium heat, add the spring onions and garlic and cook for a couple of minutes until softened. Add the tuna, sweet potato, egg, rice crumbs and parsley to mixture. Stir until combined. Use your hands to form the mixture into patties. Combine the flour and sesame seeds in a bowl and lightly coat each patty (dusting off any excess).

Place patties in a pan, cook on each side for 4 minutes until warmed through and golden.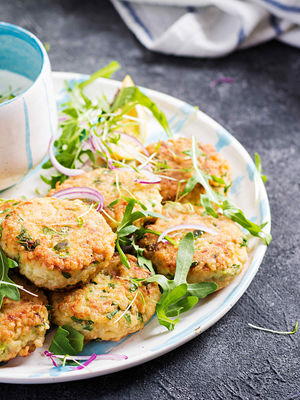 Discover more recipes on MyVision
MyVision provides members with hundreds of recipes which are easy to prepare and are suitable for the entire family.
Join us today and you'll have access to more great recipes like this.