1 Packet Latina Fresh Egg Fettuccini
1 Sachet Masterfoods Carbonara Sauce
175g Lean Bacon
600g Woolworths Skinless Chicken Breast
80g Broccoli
1 Brown Onion, Diced
2 Garlic Cloves, Crushed
Method
Cook pasta in boiling water as per instructions on packet and set aside.

Meanwhile, lightly spray a frying pan with oil. Heat over medium heat then add garlic and onion. Cook until translucent and then add the bacon. Cook, stirring, for 3 to 4 minutes, or until golden.

Next add chicken and cook through. Then add Broccoli and cook for a further 2 minutes.

Add in the carbonara sauce to the pan and simmer for 5 minutes and then add back the pasta to the pan.

Toss over low heat for 1 to 2 minutes, or until heated through. Add some grated parmesan and serve immediately.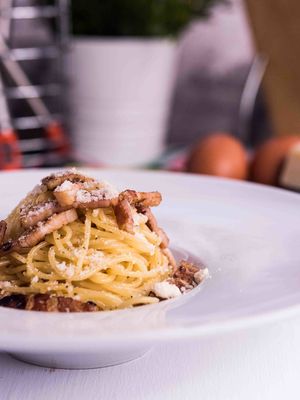 Discover more recipes on MyVision
MyVision provides members with hundreds of recipes which are easy to prepare and are suitable for the entire family.
Join us today and you'll have access to more great recipes like this.