1g Canola Oil Cooking Spray
10g Coriander Leaf
10g Garlic
3g Fat Free Greek Yoghurt
1 Lemon
2.5g Red or Cayenne Pepper
5g Cumin
20g Peppermint
750g Prawns
30g Spring Onions
2.5g Turmeric
Method
In a large bowl, mix together half the chopped shallot, garlic, coriander, cumin, cayenne and turmeric. Add the prawns and stir to coat. Cover with plastic wrap and refrigerate for 30 minutes.
Place a large skillet over medium-high heat and spray with oil. Add the prawns and cook, stirring constantly and seasoning with the salt, until nearly opaque, about 2 minutes. Add the lemon juice and continue frying until the prawns are cooked through, about 1 minute more. Top with the remaining shallots.
Combine yoghurt and chopped mint and serve with prawns as a dipping sauce.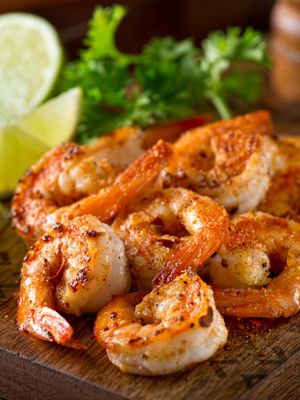 Discover more recipes on MyVision
MyVision provides members with hundreds of recipes which are easy to prepare and are suitable for the entire family.
Join us today and you'll have access to more great recipes like this.