500g Aldi World Kitchen Potato Gnocchi
2 Tablespoons Olive Oil
1/2 Teaspoon Salt
1-2 Garlic Cloves, Chopped
1 Teaspoons Oregano
5 Leaves Basil Chopped
2 Dashes of Hot Chilli Flakes
400g Diced Tomatoes with Sauce
1/2 Cup Water
Method
In a large saucepan add olive oil, tomatoes, salt, garlic, oregano, basil, chilli flakes and water, stir to combine, half cover and let simmer over medium heat until thickened. Remove cover for the last few minutes to thicken.

Add the gnocchi to a large pan of boiling water, stir and return to the boil. Cook for 2-3 minutes.

Drain and place gnocchi back into pan with tomato sauce, stirring through for 1 minute. Serve immediately topped with fresh grated parmesan cheese if desired. Enjoy!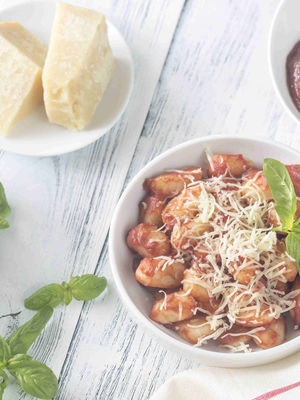 Discover more recipes on MyVision
MyVision provides members with hundreds of recipes which are easy to prepare and are suitable for the entire family.
Join us today and you'll have access to more great recipes like this.