3 Tbsp Fish Sauce
5g Basil
30g Capsicum
100g Carrots
5g Coriander
10g Garlic
10g Ginger
Mini Sweeteners
5ml Lime Juice
125g Mango
5g Peppermint
10g Mung Beans
25g Snow Peas
15ml Rice Beverage
Method
Julienne the orange and purple carrots, green mango julienned and red capsicum sliced and combine in a bowl.
Add snap peas and mung bean sprouts.
Chop mint, thai basil and coriander.
Make the dressing by combining juice of one lime, hot small chilli, garlic and ginger.
Serve with choice of protein or on eat alone.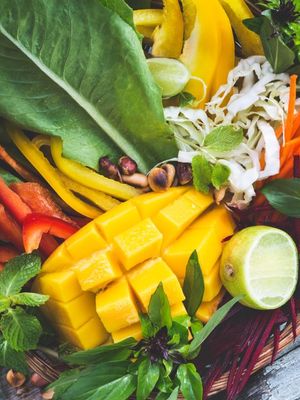 Discover more recipes on MyVision
MyVision provides members with hundreds of recipes which are easy to prepare and are suitable for the entire family.
Join us today and you'll have access to more great recipes like this.