30ml Extra Virgin Olive Oil
6g Coriander Leaf
5g Baby Leaf
600g Lamb
1 Lemon
5g Peppermint
100g Onions
5g Rosemary
100g Greek Style All Natural Yoghurt
Method
Grate onion and then add half of it to a shallow glass dish and add bay leaves, rosemary, olive oil, lemon rind and juice plus seasoning of salt and pepper.
Add chunks of meat to marinade and toss through to coat and leave to marinade overnight or for at least 2 hours. Make sure it is covered with clingfilm.
To make the yoghurt dressing, finely chop mint and coriander and stir into the yoghurt with the remaining onion. Leave in fridge to chill.
Once ready to cook meat, drain the marinade and thread the meat chunks onto skewers. Cook kebabs on a BBQ or grill rack for approx. 10 mins, turning occasionally so cooks evenly.
Transfer to a plate and serve with chilled yoghurt.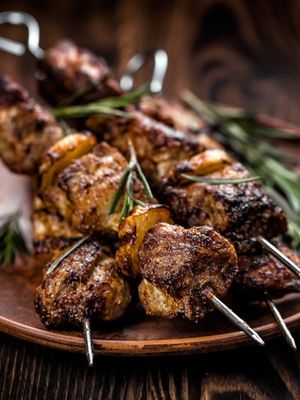 Discover more recipes on MyVision
MyVision provides members with hundreds of recipes which are easy to prepare and are suitable for the entire family.
Join us today and you'll have access to more great recipes like this.