1/3 Cup Massel Chicken Style Liquid Stock
2 Tbsp Soy Sauce
1 Tbsp Hoisin Sauce
1 Tbsp Honey
2 Garlic Cloves, Crushed
3cm piece Fresh Ginger, Peeled, Finely Grated
1 Long Red Chilli, Thinly Sliced
1 Tbsp Peanut Oil
750g Skinless Chicken Thigh Fillets, cut into pieces.
2 Small Red Capsicums, Roughly Chopped
2 Green Onions, Thinly Sliced
Steamed Jasmine Rice, to Serve.
Method
Combine stock, sauces, honey, garlic, ginger and chilli in a bowl.

Heat oil in a large frying pan over medium-high heat. Season chicken with salt and pepper. Cook chicken, in batches, for 2 minutes or until browned. Transfer chicken to slow cooker. Pour sauce mixture over chicken. Cover. Cook on LOW for 3 hours (or HIGH for 1 hour 30 minutes) or until chicken is tender.

Add capsicum. Cover. Cook on LOW for 30 minutes (or HIGH for 15 minutes) or until capsicum is tender and sauce has thickened slightly.

Spoon chicken into a serving dish. Top with and extra chilli. Serve with rice.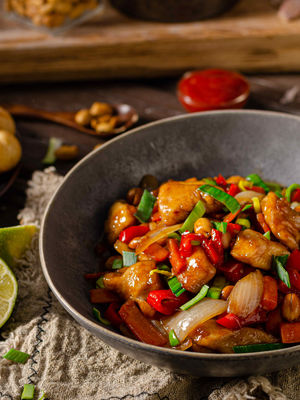 Discover more recipes on MyVision
MyVision provides members with hundreds of recipes which are easy to prepare and are suitable for the entire family.
Join us today and you'll have access to more great recipes like this.