50g Baby Spinach
20g Avocado
75g Cherry Tomatoes
10g Garlic
2g Chilli
100g Sweet Potato (Without skin, cooked, boiled).
120g Prawns
Method
Cut sweet potato into small chunks and roast in a 180 degree oven for approximately 25 minutes and then leave to cool. Crush garlic and cook in a pan then add prawns and stir through.
Add salt, pepper and chilli flakes and cook until prawns become pink then set aside.
On a plate combine spinach, chopped tomatoes and diced avocado.
Top with warm roast sweet potato and prawns.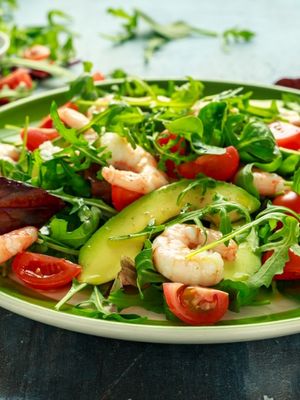 Discover more recipes on MyVision
MyVision provides members with hundreds of recipes which are easy to prepare and are suitable for the entire family.
Join us today and you'll have access to more great recipes like this.