150g Capsicum

300g Beef Mince Premium

350g Eggplant

10g Garlic

4 Barley Wraps (Mountain Bread)

150g Onions

40g Parmesan Cheese

100g Ricotta Cheese

400g Crushed Tomatoes (Canned)

300g Zucchini
Method
Chop capsicum into quarters and roast under the grill for 15 mins until skin blisters and blackens. Roast capsicum in oven 180 C for 10 mins. Remove and place capsicum in plastic bag for 10 mins, once cool remove skin from capsicum.

Cut zucchini and eggplant into 5mm thick slices. Brown under grill for 10 mins.

Cook onion and garlic in non-stick fry pan, stirring until onion is soft. Add mince and cook till brown then add tin of tomatoes.

Place one slice of mountain bread into bottom of oven proof dish. Layer with mince, eggplant, zucchini and capsicum and another sheet of mountain bread until all mixture is used up.

Spoon ricotta over top of lasagne and sprinkle with parmesan cheese.

Bake in 180 C oven for 1 hour or until cheese is golden brown.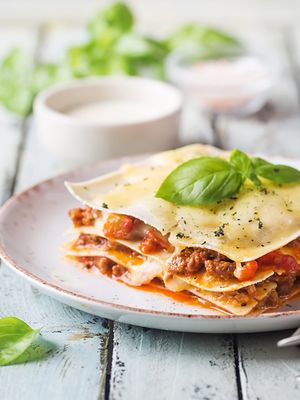 Discover more recipes on MyVision
MyVision provides members with hundreds of recipes which are easy to prepare and are suitable for the entire family.
Join us today and you'll have access to more great recipes like this.