1kg Chicken Thighs, Trimmed
2 Cloves Garlic, Crushed
1 Brown Onion, Diced
4 Sticks Celery, Diced
1 Tin Crushed Tomatoes
30g Tomato Paste
85g Mushrooms, Sliced
250ml Water
30g Kalamata Olives
Method
Dice onion and garlic and cook off together in a little olive oil until translucent and flavoursome and then add the celery and mushrooms until cooked.
Dice and add the chicken pieces to the pan and cook until browned all over.
Add the tomato paste and cooked veggies and cook for a further 5 minutes.
Add the tinned tomatoes and water and bring to the boil, then reduce heat to low and cook covered, for five minutes, stirring occasionally to let the flavour develop. Add the olives.
Transfer to slow cooker and cook low and slow for 4 - 5 hours.
Serve garnished with the parsley.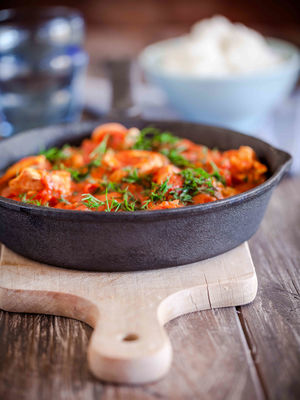 Discover more recipes on MyVision
MyVision provides members with hundreds of recipes which are easy to prepare and are suitable for the entire family.
Join us today and you'll have access to more great recipes like this.