100g Carrots
400g Cauliflower
225g Chicken Breast Meat
20g Red Hot Chilli Peppers
200g Brown Lentils
50g Ricotta Cheese
15g Garlic
100g Mushrooms
150g Onions
20g Parmesan Cheese
220g Diced Tomatoes in Tomato Juice
Method
Dice up onion and chicken and add to a pan lightly sprayed with oil then add garlic with one bay leaf and cook until brown.
Add tomatoes, chopped carrot and mushrooms and cook through until all ingredients are soft.
Drain can of lentils, rinse and add this to the sauce. Simmer for 5 to 10 mins.
Whilst simmering, steam cauliflower until soft then mash with light ricotta and option to add ground chilli powder.
Pour lentil mix into casserole dish evenly and then pour the cauliflower mash on top and spread evenly.
Sprinkle with light parmesan and bake for 30 mins on 180 degrees and serve with steamed green vegetables.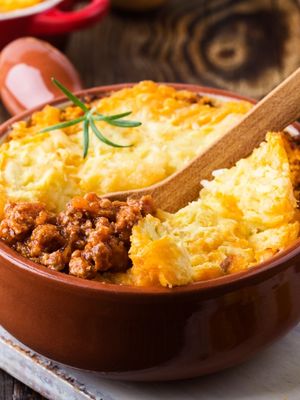 Discover more recipes on MyVision
MyVision provides members with hundreds of recipes which are easy to prepare and are suitable for the entire family.
Join us today and you'll have access to more great recipes like this.