100g Almond Butter
250g Traditional Oats (Uncle Tobys)
30g Honey
75g Raisins (Seeded)
0.5g Salt
100g Pepitas (Lucky)
Method
Mix oats, pumpkin seeds, and raisins in a large bowl. Whisk together nut butter, honey, and sea salt.
Pour into oat mixture, and mix well, till everything is sticky and combined. If it's too dry, add a bit water.
Press mixture into a shallow baking dish that you've lined with baking paper.
Cover with foil, press well into the baking dish, and refrigerate for 4 hour.
Cut into bar shapes, wrap, and keep refrigerated till ready to use. They will last two weeks in the fridge.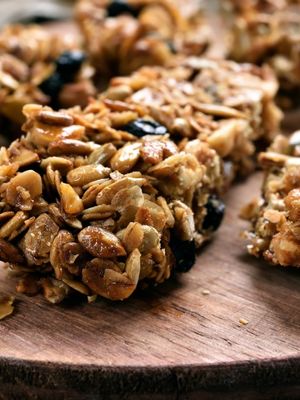 Discover more recipes on MyVision
MyVision provides members with hundreds of recipes which are easy to prepare and are suitable for the entire family.
Join us today and you'll have access to more great recipes like this.