2g Extra Light Olive Oil Spray
2g Dill
100g Portabella Mushrooms
1g Black Pepper
25g Ricotta Cheese
125g Firm Silken Tofu
50g Tomatoes
2g Turmeric
Method
Heat oil in a small frying pan and place mushroom in hot pan, flipping sides until cooked through.
Leave mushroom under warm grill whilst you crumble tofu into hot pan and add turmeric and black pepper to tofu.
Stir through until tofu looks like scrambled egg and then take off heat.
Add ricotta cheese.
Place mushroom cup on a plate and pile on scrambled tofu and then add chopped tomato Sprinkle with chopped dill and extra ground pepper to taste.
This meal is suitable for vegans simply by removing the ricotta cheese.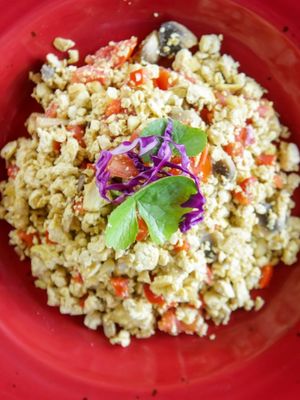 Discover more recipes on MyVision
MyVision provides members with hundreds of recipes which are easy to prepare and are suitable for the entire family.
Join us today and you'll have access to more great recipes like this.