500g Chicken Mince
400g Diced Tomatoes
250g Capsicum
100g Onion
2 Cloves Garlic
280g Bag of Spinach
190g Leggos Pesto - Traditional Basil
250g Light Ricotta
6 Latina Fresh Lasagna Sheets
180g Bega 50% Fat Cheese or Light Mozzarella Cheese*
*For these macros, Bega cheese was used.
Method
In a pan saute onion and garlic in a little oil. Add capsicum to soften.
Add chicken mince and break up in pan.
Add diced tomato and simmer to reduce liquid. Season with salt and pepper.
While waiting for sauce to reduce, boil water and pour over spinach to wilt.
In another bowl stir pesto and ricotta together, then add drained spinach to stir in.
In a rectangle baking dish, layer with 2 x lasagna sheet - third of a chicken mix - third of spinach mix. Repeat with 2 x more layers.
Sprinkle cheesed on top and bake in 180 degrees oven until cheese is golden.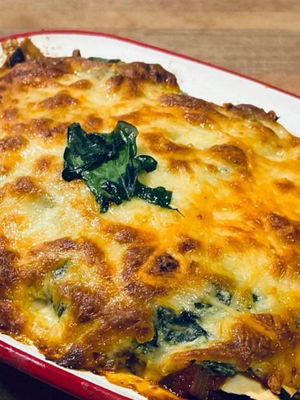 Discover more recipes on MyVision
MyVision provides members with hundreds of recipes which are easy to prepare and are suitable for the entire family.
Join us today and you'll have access to more great recipes like this.