150g Onions
1000ml Real Stock Chicken (Campbells)
1tsp Canola Vegetable Oil
100g Capsicum
100g Cauliflower
400g Diced Tomatoes in Tomato Juice (Woolworths Homebrand)
5g Coriander
10g Cumin
15g Garlic
5g Ginger
200g Mushrooms
10g Yellow Mustard Seed
300g Zucchini
Method
Heat oil in a large frying pan; cook onion, garlic and ginger and chilli until soft.
Combine spices and add to pan. Cook until fragrant. Add tomatoes and stock and bring to the boil.
Add cauliflower and transfer to slow cooker or leave to simmer for 1hr.
Add remaining vegetable and cook for a further 30 minutes or until vegetables are tender.
Stir in fresh coriander to taste. Add protein of your choice and serve.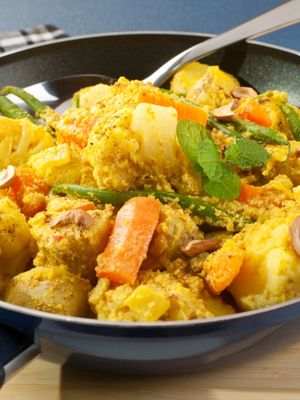 Discover more recipes on MyVision
MyVision provides members with hundreds of recipes which are easy to prepare and are suitable for the entire family.
Join us today and you'll have access to more great recipes like this.