100g Bamboo Shoots
50g Capsicum
200g Carrots
20g Chives
20g Coriander
200g Cucumber
20g Peppermint (Mint)
1000g Prawns
10 Medium (22cm dia) Rice Paper
40ml Sweet Chilli Sauce (Fountain)
100g Rice Noodles (Cooked)
Method
Blanch the bean shoots quickly in boiling water, then plunge them into ice cold water. Drain water. Soak the vermicelli noodles in boiling water for 2 mins, drain well.
Soak rice paper in warm water for 20 secs and place a clean tea towel to absorb the excess moisture. Shred the mint and coriander leaves.
Place some noodles and bean shoots and a selection of other ingredients on a piece of rice paper and roll the rice paper just enough to cover the filling. Tuck in the ends, then place a piece of prawn in the roll and continue rolling until roll runs out.
Dip in sweet chilli sauce.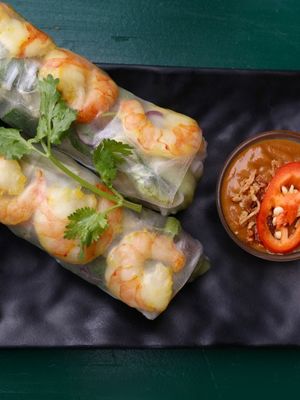 Discover more recipes on MyVision
MyVision provides members with hundreds of recipes which are easy to prepare and are suitable for the entire family.
Join us today and you'll have access to more great recipes like this.