40g Unsalted Butter
55g CSR Rapadura or Coconut Sugar
10ml Milk
1 Egg
60g Almond Meal
1/2 tsp Vanilla Extract
Vanilla Bean Ice-Cream or Yoghurt, to Serve
Method
Place the butter, sugar and milk in a medium heatproof jug. Place in the microwave on high for 30 seconds.

Remove the jug from the microwave and using a fork, whisk the mixture until it's smooth. Add the egg, almond meal, baking powder and vanilla into the jug and whisk again until combined. Divide the mixture between 2 x 1-cup-capacity microwave and oven-safe mugs or ramekins.

To microwave




Place both mugs in the microwave on high for 2 minutes or until the puddings are set around the edges until wobbly in the centre.

To oven bake




Preheat oven to 160°C. Place the mugs on a baking tray and bake for 25 minutes or until slightly wobbly in the centre.

To serve
Serve the puddings warm with LOW-CA; vanilla FROPRO ice-cream or low-fat yoghurt.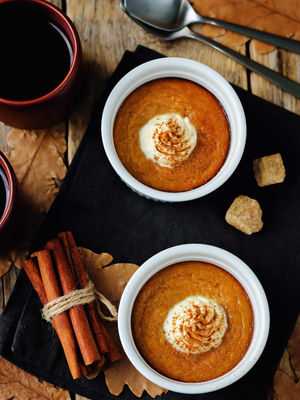 Discover more recipes on MyVision
MyVision provides members with hundreds of recipes which are easy to prepare and are suitable for the entire family.
Join us today and you'll have access to more great recipes like this.