360g Chopped Pitted Fresh Dates
85g Brown Sugar
125g Coconut Oil
1 Teaspoon Bicarbonate Baking Soda
140g Plain Flour
80g Rolled Oats
1 Egg
1 Teaspoon Ground Cinnamon
1 Teaspoon Vanilla Extract
Method
Preheat oven to 180C.

Place the dates, sugar and coconut oil in a small saucepan over medium heat and stir until the butter is melted. Cook, stirring, for a further 5 minutes or until the dates are soft. Add the bicarbonate of soda, mix to combine and set aside to cool.

Place the flour, oats, egg, cinnamon and vanilla in a large bowl. Add the date mixture and mix to combine.

Divide and shape the mixture into 2-tablespoon balls, flatten slightly and place on baking trays lined with non-stick baking paper. Bake for 12–14 minutes or until golden.

Allow to cool on trays. Store cookies in an airtight container for up to 1 week.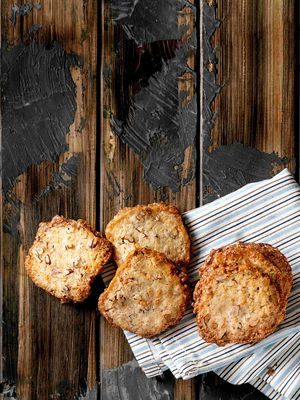 Discover more recipes on MyVision
MyVision provides members with hundreds of recipes which are easy to prepare and are suitable for the entire family.
Join us today and you'll have access to more great recipes like this.