1 Salmon Fillet
100g Brown Rice
2 Celery Sticks
2 Shallots
Coriander Leaves, Diced
2 Carrots, Grated
10mL Kewpie Japanese Sesame Dressing
Method
Preheat oven to 230 degrees, cook salmon for 10 minutes.
Grate carrot, dice celery and shallots and chop coriander and place into a bowl.
Heat rice in microwave.
Add all ingredients to bowl with dressing and mix through well.
Add cooked salmon and enjoy.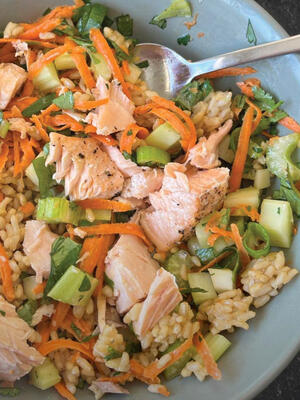 Discover more recipes on MyVision
MyVision provides members with hundreds of recipes which are easy to prepare and are suitable for the entire family.
Join us today and you'll have access to more great recipes like this.