300g Diced Chicken Breast
3g Baking Powder
28g Plain/All Purpose Flour
Light Cooking Oil Spray
1 Egg White
Herbs & Spices
1 Tbsp Salt
1 Tsp Basil
1 Tsp Thyme
1 Tbsp Oregano
1 Tbsp Black Pepper
1 Tbsp Paprika
1 Tbsp Garlic Powder
1 Tsp Mustard Powder
1 Tsp Ginger Powder
Method
Dice chicken into small cubes.
In a large bowl, add flour and all the spices you intend to use and mix together.
Add the baking powder in and mix together.
Soak the diced chicken in the egg white in a separate bowl.
Coat the chicken in the dry mixture.
Place in air fryer and spray with some light cooking oil.
Cook for 12 - 14 minutes at 200 degrees Celsius or bake in the oven at 190 degrees Celsius for 18 - 20 minutes.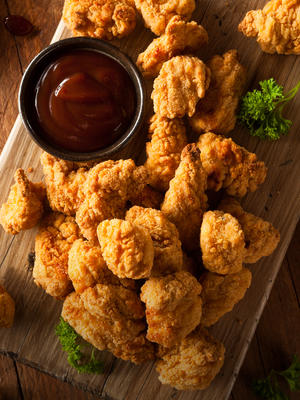 Discover more recipes on MyVision
MyVision provides members with hundreds of recipes which are easy to prepare and are suitable for the entire family.
Join us today and you'll have access to more great recipes like this.