100g Flaked Almonds (Coles)
75g Dried Coconut
100g Almond Meal (Freshlife)
80g Honey
80g Crunchy Peanut Butter (Sanitarium)
10ml Water
Method
Combine almond meal, flakes and coconut. Warm the honey and peanut butter and then add to dry ingredients.
Add bicarb soda and water until mixture is quite sticky. Pre heat oven to 150 degrees.
Line a baking tray with baking paper. Spoon mixture onto paper making small cookies.
Cook for approx 20 to 25 mins until golden brown.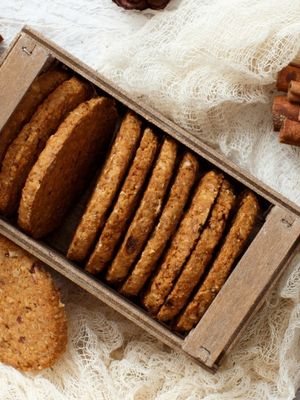 Discover more recipes on MyVision
MyVision provides members with hundreds of recipes which are easy to prepare and are suitable for the entire family.
Join us today and you'll have access to more great recipes like this.