30g Pest
2 Eggs
Pinch of Salt
Pinch of Ground Black Pepper
Pinch of Red Pepper Flakes
2 Slices Sourdough Bread
2 Teaspoons Herbed Goat's Cheese
Method
Heat a medium frying pan over medium heat. Once hot, spread the pesto in a thin layer across the pan.

When the pesto is warm, crack the eggs into the pan. Sprinkle with salt, pepper, and red pepper flakes. Cook the eggs for 4 to 5 minutes or until the whites are set and no longer translucent.

Meanwhile, toast the bread and spread the goat cheese on it.

Remove the eggs from the pan and place them on the toast.

Serve immediately and enjoy!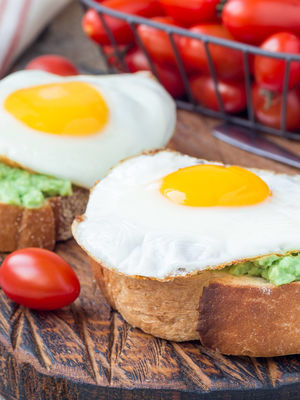 Discover more recipes on MyVision
MyVision provides members with hundreds of recipes which are easy to prepare and are suitable for the entire family.
Join us today and you'll have access to more great recipes like this.