5g Cinnamon
35g Dried Coconut
100g Quinoa Flakes (Nature First)
25g Flaked Almonds (Lucky)
100g Goji Berries
150g Vision Protein powder (Chocolate)
50g Walnuts
Method
Soak the Goji Berries in warm water for around 10 minutes. Mix in a bowl the protein powder, quinoa flakes, coconut, almonds and walnuts. Stir them into a mixture.
Pour the mixture into a food processor and blend the mixture together till the nuts are all in a mix with the rest of the ingredients.
Once blended, place ingredients back into the bowl. Drain the goji berries out of the water and add them to the bowl of ingredients.
Mix the goji berries into the ingredients and choose a small amount to make the balls.
Once you roll the ball into the size you like, place them on another plate.
Add 1/3 of additional coconut into an empty bowl. Roll each ball it in the coconut to coat it.
Balls are ready to serve! Keep in fridge for 1 week.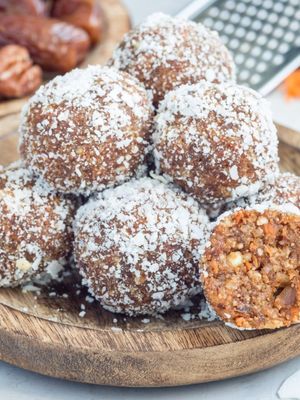 Discover more recipes on MyVision
MyVision provides members with hundreds of recipes which are easy to prepare and are suitable for the entire family.
Join us today and you'll have access to more great recipes like this.