1/2 Banana
1 Egg
2 Tbsp True Protein WPC80 in Banana & Honey
1/4 Cup Oat Flour
Sprinkle of Cinnamon
1/4 Tsp Baking Soda
1 Tsp Honey
2 Tbsp's Chocolate Chunks (plus a little extra for topping)
Method
In a small bowl, use a fork to mash the banana.

Add the rest of the ingredients except for the chocolate and mix well until combined.

Chop the chocolate and add to the batter.

Spray a mug with olive oil and pour the mixture into the mug.

Top with a couple more pieces of chocolate and place in the microwave for 40-45 seconds.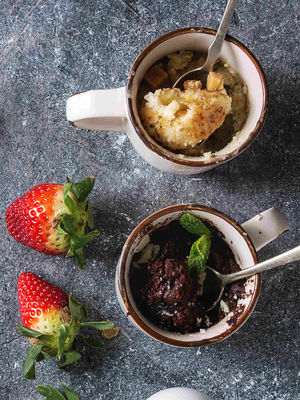 Discover more recipes on MyVision
MyVision provides members with hundreds of recipes which are easy to prepare and are suitable for the entire family.
Join us today and you'll have access to more great recipes like this.