270g Oats
40g Crispy Brown Rice Cereal
170g Chocolate Chips
95g Unsweetened Shredded Coconut
1/4 Teaspoon Salt
70g Brown Rice Syrup
130g Tahini
1 Teaspoon Vanilla Extract
Method
Preheat oven to 160 degrees.

Line a baking pan with parchment paper, leaving extra parchment hanging over two sides. Lightly coat the parchment with cooking spray.

Combine oats, cereal, chocolate chips, coconut and salt in a large bowl.

Combine rice syrup, tahini and vanilla in a microwave-safe bowl. Microwave on high for 30 seconds. Add to the dry ingredients and stir until evenly combined. Transfer to the prepared pan; firmly press the mixture into the pan with the back of a spatula.

For chewier bars, bake until barely starting to colour around the edges and still soft in the middle, 20 to 25 minutes. For crunchier bars, bake until golden brown around the edges and somewhat firm in the middle, 30 to 35 minutes. (Both will still be soft when warm and will firm up as they cool.)

Let cool in the pan for 10 minutes, then, using the parchment to help you, lift out of the pan onto a cutting board (it will still be soft). Cut into 24 bars, then let cool completely without separating the bars, about 30 minutes more. Once cool, separate into bars.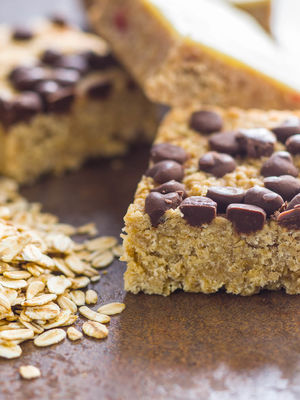 Discover more recipes on MyVision
MyVision provides members with hundreds of recipes which are easy to prepare and are suitable for the entire family.
Join us today and you'll have access to more great recipes like this.