200g Hard Tofu
225g Chinese Cabbage
1000ml Real Stock Vegetable
3 Tbsp Soy Sauce
1 Green Hot Chilli Pepper
1.5g Coriander
5g Ginger
1 Serving Miso Soup
100g Spring Onions
Method
Remove the green tops from spring onions and then slice the rest of the onions thinly in a slight diagonal angle.
Remove coriander leaves from stalks and then chop stalks
Add coriander stalks and green parts of spring onion to a large saucepan along with grated ginger, star anise, dried chilli and vegetable stock.
Heat the mixture over a low heat and gently simmer for approx. 15 mins. Remove from heat and then strain the broth so that just the liquid removes
Slice bok choy and add to soup and return the green parts of the spring onions to mix, you may need to pick this carefully from strained remains.
Chop tofu into chunks and add to soup, leaving on the heat to simmer for 5 mins.
In a separate small bowl and using a ladle, add a small scoop of the soup and mix in the miso paste and then return this to the saucepan of soup and stir thoroughly and add tamari soy sauce.
Chop the coriander leaves and stir into soup with the white part of the spring onions.
Ladle soup into 4 bowls and serve. Can add more chopped coriander or sliced red chilli if desired.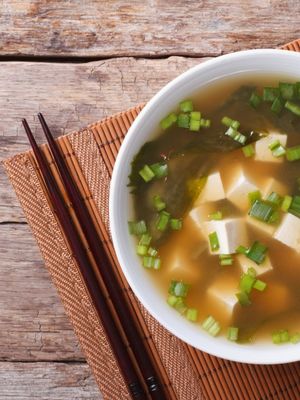 Discover more recipes on MyVision
MyVision provides members with hundreds of recipes which are easy to prepare and are suitable for the entire family.
Join us today and you'll have access to more great recipes like this.