265g Pumpkin
80g Wholemeal Flour
1 Tsp Baking Powder
Pinch of Pink Salt
1/2 Tsp Cayenne Pepper
1 Egg
100g Light Ricotta
1/2 Tbsp Milk
40g Baby Spinach
15g Spring Onion
75g Feta
Method
Preheat oven to 180 degrees Celsius fan-forced.

Place the diced pumpkin on a lined baking tray and cook for 30 minutes or until softened. Mash and set aside to cool.

Mix the flour, baking powder, salt and cayenne pepper into a bowl.

In a separate large bowl mix together the egg, ricotta, chopped spinach, thinly sliced spring onion and pumpkin.

Add the dry ingredients to the wet and stir until combined, then mix in the diced feta.

Spoon mixture into prepared miniature loaf pans (or muffin tray) and bake in the oven for 10-15 minutes.

Let cool completely on a wire rack before storing in the fridge.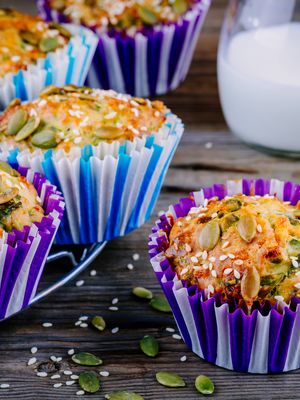 Discover more recipes on MyVision
MyVision provides members with hundreds of recipes which are easy to prepare and are suitable for the entire family.
Join us today and you'll have access to more great recipes like this.