20g Garlic

20g Ginger

10g Lemon Grass

0.25g Red or Cayenne Pepper

0.5 Tsp Olive Oil

500g Pork Mince Lean

1g Salt

45g Shallots

100g Cherry Tomatoes

2g Turmeric
Method
In food processor, combine lemongrass, garlic, shallots, ginger and salt. Next add cayenne and tomatoes and blend until smooth.

Mix turmeric through the mince. Add spice mix to mince, kneading together with your hands.

Shape mince mixture into balls, then gently press each into a thick patty. Fry patties in non-stick fry pan or in a moderate oven 180 C for 15 mins in a small bit of oil.

Serve patties with a green salad or enjoy as a snack on their own!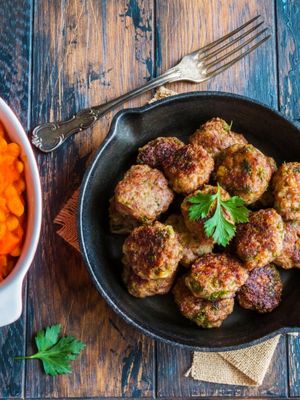 Discover more recipes on MyVision
MyVision provides members with hundreds of recipes which are easy to prepare and are suitable for the entire family.
Join us today and you'll have access to more great recipes like this.