10ml Extra Virgin Olive Oil
2 Zucchini's, Halved Lengthways
1 Red Onion, Cut into Thin Wedges
4 Garlic Cloves, Crushed
1/4 Tsp Dried Chilli Flakes
800g Canned Cherry Tomatoes in Juice
4 x 120g Barramundi Fillets, Skin On
1 Cup Wholemeal Couscous
2/3 Cup Kalamata Olives
1/4 Bunch Parsley, Chopped
Method
Heat half the oil in a large deep frying pan over medium heat. Cook zucchini, stirring occasionally for 5 minutes until tender. Transfer to a plate.

Heat remaining oil, cook onion, capsicum, garlic, and chilli, stirring for 5 minutes until onion is soft. Add tomatoes and bring to the boil. Add fish and reduce heat to medium. Simmer uncovered for 8 minutes or until fish is cooked through and sauce has thickened slightly.

Meanwhile, place couscous in a heatproof bowl . Add 1 cup of boiling water, cover and stand for 5 minutes. Stir with a fork to separate grains. Then stir zucchini into couscous and season with salt and pepper.

Stir olives into barramundi mixture. Season with salt and pepper and serve with fresh parsley.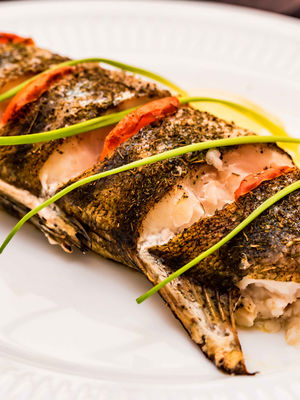 Discover more recipes on MyVision
MyVision provides members with hundreds of recipes which are easy to prepare and are suitable for the entire family.
Join us today and you'll have access to more great recipes like this.