40g Butter
600g Chicken Breast Meat
100g Cucumber
100g Green String Beans
100g Lettuce
0.5 Tsp Olive Oil
10g Parmesan Cheese
50g Radish
10g Sage
5g Thyme
Method
Place melted butter, thyme, sage and parmesan in a bowl, season if desired. Ensure skin is removed and rub mixture into chicken breast.
Preheat oven to 200 degrees and line a baking tray with baking paper. Place chicken on tray and cook for approximately 10 minutes in hot oven.
Baste the breast in any juices that have run into pan and return to oven for further 15 to 20 minutes. Steam green beans and then leave to cool.
Remove chicken from oven and leave to rest on a plate.
Place lettuce, chopped cucumber, radish and beans in a bowl. Toss salad, adding lemon juice or balsamic vinegar if desired and serve with chicken.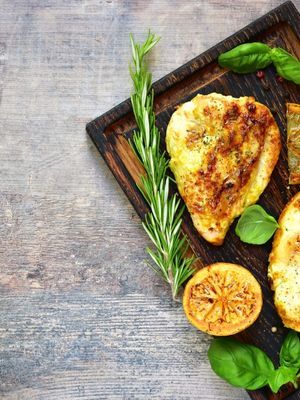 Discover more recipes on MyVision
MyVision provides members with hundreds of recipes which are easy to prepare and are suitable for the entire family.
Join us today and you'll have access to more great recipes like this.