300g (1 1/2 cups) Brown Rice
2 Garlic Cloves, Crushed
2 Teaspoons Grated Fresh Ginger
625mL (2 1/2 cups) Boiling Water
2 Teaspoons Olive Oil
2 Carrots, Peeled, Coarsely Grated
150g (1 cup) Frozen Peas
100g 97% Fat Free Sliced Ham, Chopped
3 Green Shallots, White & Pale Green Parts Thinly Sliced (Tops Reserved)
2 Tablespoons Light Soy Sauce
3 Eggs
Sriracha Chilli Sauce, To Serve
Method
Preheat oven to 180C. Place the rice in a 30 x 20cm baking dish. Add the garlic and ginger. Pour in the water and add the oil. Stir to combine. Cover the dish tightly with foil and bake for 45 minutes.
Carefully uncover the dish and stir in the carrot, peas, ham, shallots and soy sauce. Cover tightly and cook for a further 10 minutes.
Remove and discard foil. Make 3 indentations in the rice mixture and break an egg into each. Use a fork to lightly whisk each egg without mixing into the rice. Return to the oven and cook, uncovered for 7 minutes or until the egg is set.
Use a small sharp knife to coarsely cut the egg in the dish. Stir to combine. Diagonally slice the reserved shallot tops and sprinkle over rice mixture. Serve drizzled with sriracha and extra soy sauce.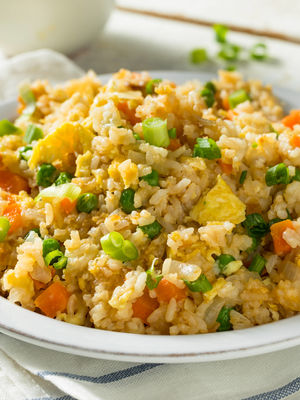 Discover more recipes on MyVision
MyVision provides members with hundreds of recipes which are easy to prepare and are suitable for the entire family.
Join us today and you'll have access to more great recipes like this.