1 Egg
20g Butter or Dairy-Free Butter, Melted
2 Tablespoons Stevia
2 Teaspoons Vanilla
A Dash of Salt
1 Teaspoon of Cinnamon
225ml Milk or Dairy-Free Milk
40g Plain or Gluten-Free All Purpose Flour
4 Slices Bakers Delight High Fibre Bread
Method
Add all ingredients (except bread) to a large bowl and whisk together.

Soak bread for 1-2 minutes each slice.

Heat a griddle or skillet on medium-high heat and coat pan lightly with butter.

Add soaked bread to pan and cook 2-3 minutes per side, until both sides are golden brown.

Enjoy as is or serve with maple syrup or powdered sugar and enjoy!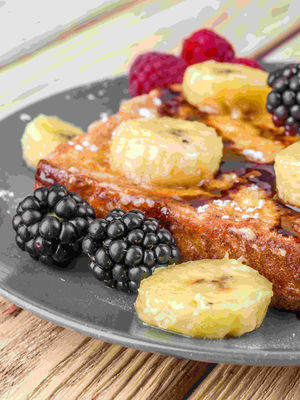 Discover more recipes on MyVision
MyVision provides members with hundreds of recipes which are easy to prepare and are suitable for the entire family.
Join us today and you'll have access to more great recipes like this.