150g Carrots

150g Celery

3g Garlic

200g Sweet Potato

800g Butternut Pumpkin
Method
Chop all vegetables into cubes and put into a large pot. Cover with enough water so vegetables can boil leaving about an inch of water covering the top (check and add more water as needed but don't over fill).

Cook for around 15 minutes and once the vegetables are soft drain some of the liquid into another pot and blend the vegetables with a hand held mixer, add a small amount of salt and cracked pepper. You can also transfer to a blender if you do not have a hand held mixer.

Add back the left-over water as needed (try and put it all back into the mix to avoid tipping good nutrients out).

Serve with a teaspoon of Greek yoghurt and chives or parsley if you want a creamier texture or enjoy on its own.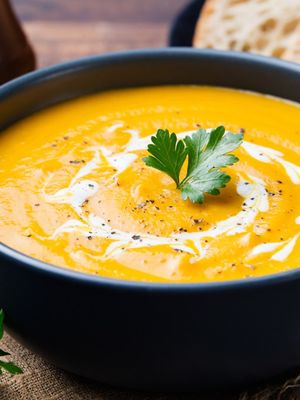 Discover more recipes on MyVision
MyVision provides members with hundreds of recipes which are easy to prepare and are suitable for the entire family.
Join us today and you'll have access to more great recipes like this.