1 1/2 Cups Skim Milk
7g Dried Yeast
10g Maple Syrup
165g Plain Wholemeal Flour
30g Traditional Rolled Oats
1 Tbsp Ground Cinnamon
1 Tbsp Mixed Spice
3/4 Cup Mixed Dried Fruit
1 Tsp Vanilla Extract
5mL Olive Oil Cooking Spray
Smooth Light Ricotta
Method
ACTIVATE YEAST: Microwave milk in a heatproof jug on high for 30 seconds or until just warm. Add yeast and syrup, stirring to combine. Set aside for 10 minutes or until frothy.

MAKE DOUGH: Place flour, oats, cinnamon, mixed spice and fruit into the bowl of stand mixer fitted with a dough hook. Make a well in centre. Add yeast mixture and vanilla. Mix on medium speed for 4 minutes or until dough is smooth and starts to come away from side of bowl. Cover and set aside in a warm place to prove for 1 hour or until doubled in size.

SHAPE BUNS: Spray a 21 x 30cm pan lightly with oil. Punch down dough to remove excess air, then turn out to a lightly floured surface and knead briefly until smooth. Divide dough into 12 portions, then shape each portion into a ball. Place in pan, then cover and set aside in a warm place for 45 minutes or until doubled in size. Preheat oven to 180°C/160°C fan-forced.

MAKE CROSS MIXTURE: Combine flour with 1/4 cup water in a small bowl, then mix to a smooth paste. Transfer cross mixture to a piping bag fitted with a 2mm round tip.

BAKE: Bake for 30 minutes or until golden and cooked through. Brush tops with a little extra syrup to glaze. Serve topped with ricotta and extra syrup.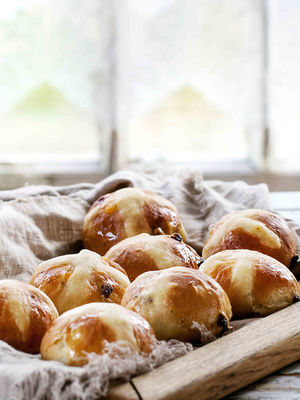 Discover more recipes on MyVision
MyVision provides members with hundreds of recipes which are easy to prepare and are suitable for the entire family.
Join us today and you'll have access to more great recipes like this.