5g Tomato Chutney (Baxters)
50g Cauliflower
5g Chives
1 Medium Egg (Whole)
50g Leek
0.5g Black Pepper
5g Parmesan Cheese (Hard)
0.5g Salt
100g Baby Spinach
Method
Place the cauliflower, leek, chives, parmesan, egg, flour, salt and pepper in a bowl and stir well to combine.
Spray oil in a large frying pan over medium heat.
Cook tablespoons of the cauliflower mixture, in batches, for 2 minutes each side or until golden. Drain on absorbent paper and serve with the tomato relish and boiled spinach.
Option to serve with a poached egg.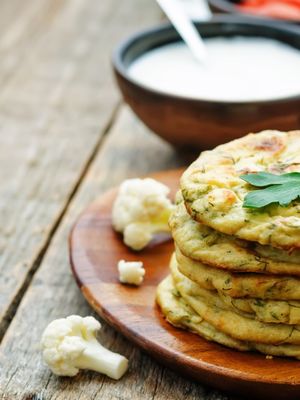 Discover more recipes on MyVision
MyVision provides members with hundreds of recipes which are easy to prepare and are suitable for the entire family.
Join us today and you'll have access to more great recipes like this.